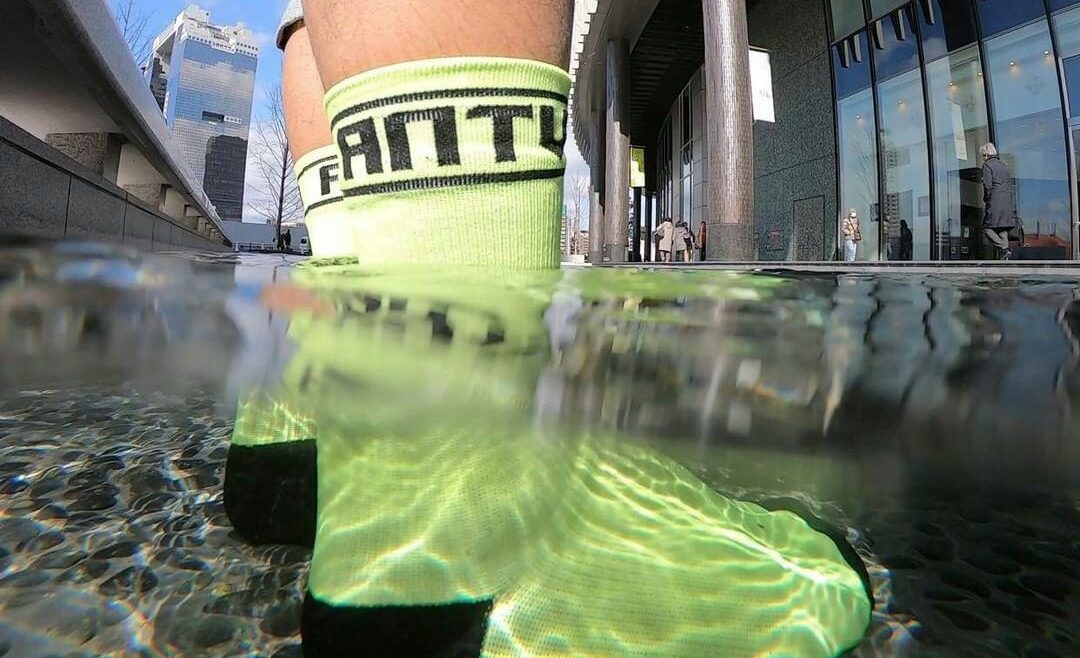 Waterproof Socks For Outdoor: Function And Advice
You may have used lots of different outdoor gear and clothing, but there is one thing you might have yet to try, the waterproof socks. We've all heard of waterproof shoes and boots with gore-tex and other stuff but waterproof socks, that's just crazy! Actually there's a handful of brands that make waterproof socks but how do you choose the right one for your outdoor activities? Before you make the right decision, you need to know how waterproof socks works, in which condition you'll need waterproof socks. Here we will make a full review of waterproof socks function for your reference and give you our expert's advice. 
Do waterproof socks really work? Well, a pair of high-performance waterproof socks play an essential role in wonderful experienced outdoor activities, for it can keep your toes dry while also prevent a soggy mess after a long days hike, as well as keeping warm but breathable in cold days; not only that, the top waterproof socks will also be key in warding off fungus from growing on your feet.
Material content that makes socks waterproof
Waterproof socks usually come with 3 layers of durable construction, including a nylon exterior layer(nylon + rubber), a waterproof membrane, and a wool interior layer(merino wool + nylon), all these make the sock breathable, warm, and durable. You'll want a pair that ideally have a merino wool lining, such as WATERFLY or  SHOWER PASS. Merino Wool is a very famous world around for its moisture-wicking properties and the ability to keep your feet warm! It's why the merino sheep is so valued, the wool they produce is used in millions of different types of garments, waterproof socks included. Like the ordinary winter socks, the outside layer of the waterproof sock is soft and smooth, you almost can't distinguish it with regular socks by touching the surface and its appearance; the middle waterproof membrane is the key layer for waterproof; while the inner layer is soft merino which helps wick away sweat and prevents smells caused by bacteria.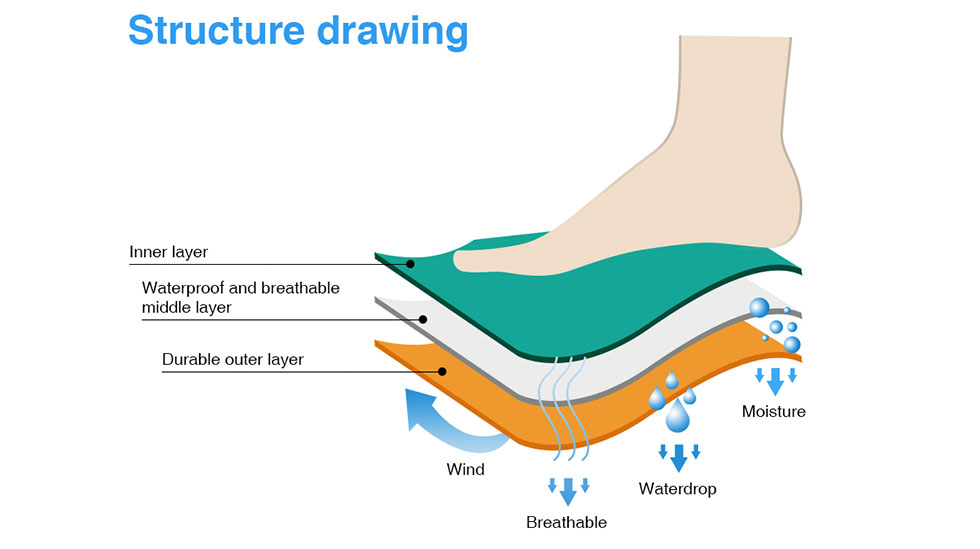 Although waterproof-breathable membranes must make a compromise between waterproofing and breathability. To make a good waterproof sock, many brands must find the right balance between the two. They are porous enough to allow water vapor to escape, but not porous enough to allow water in, keeping your feet nice and dry, away from the elements. Breathability is one of the factors where quality socks set themself apart, with the material selection the drier feet it can be very different from the sweaty feet and damp or wet socks and dry socks. Another feature of many premium quality socks is the resistance to bacteria – some waterproof socks use nasty chemicals (which can be washed out over time) while others use material selection and yarns that are resistant.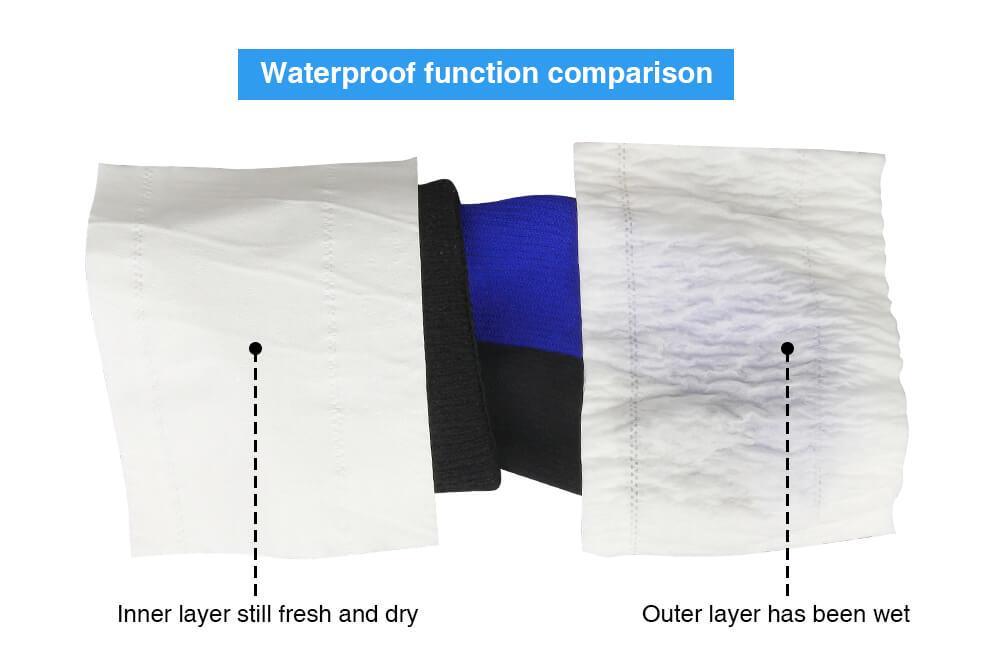 When to use waterproof socks
Not all waterproof shoes that can be helpful for those places where rain or water inevitably creeps in, namely the tongue and lacing points. Plus, gear-makers use many different applications to waterproof footwear. Most eventually wear out fade away over time, And that can quickly lead to wet, cold, unhealthy feet. A waterproof sock can be a nice extra barrier during a variety of outdoor activities. For instance,  winter hiking where post-holing is a serious possibility, waterproof socks can help not only keep feet warm but prevent the water from ice in the shoes, and when you are passing a waterfall during hiking, waterproof socks can be very helpful preventing water. Waterproof socks could also be considered the new bike-packing essential. Most people have used waterproof socks for Cycling and Hiking purposes and found that on really wet and muddy days, they really do help keep feet protected from the elements, whereas if they had just put on a regular pair of socks, the feet would have been screwed.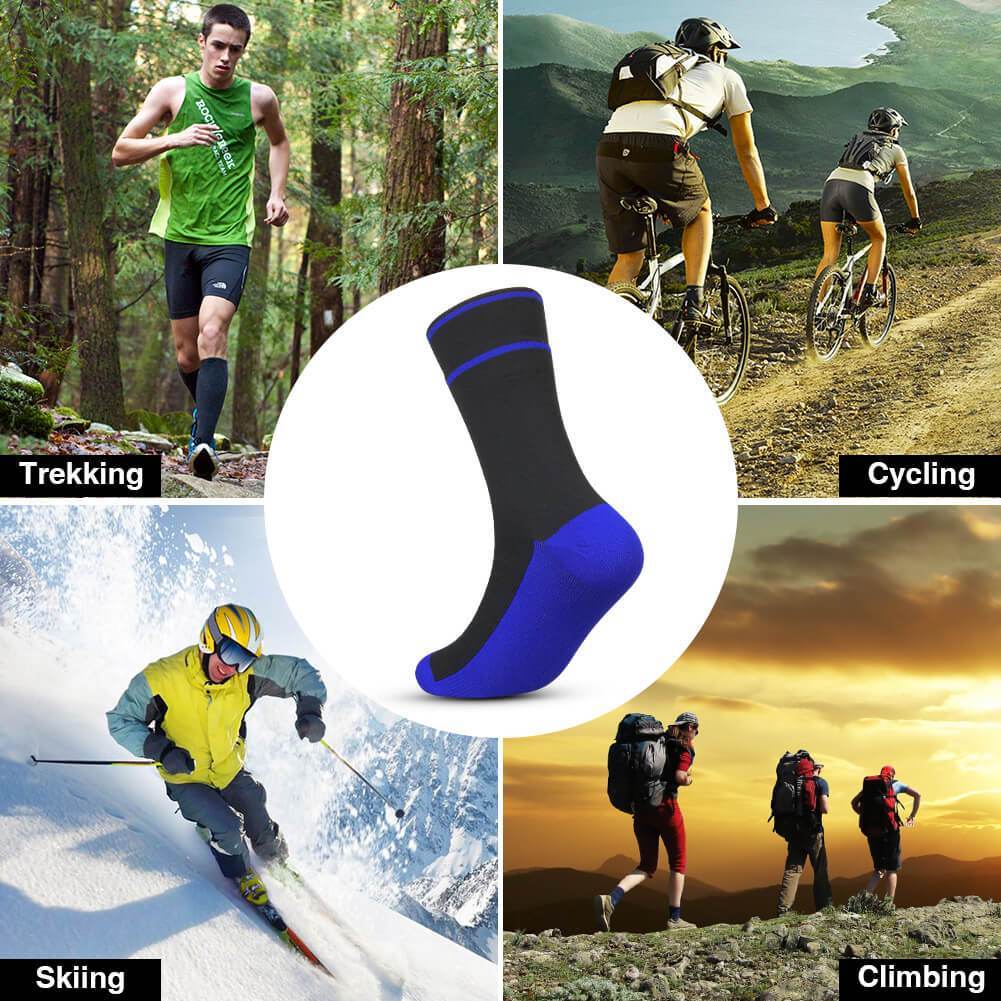 As you can see, if you are the one who likes road running, trail running, hiking, fishing, skating, trekking, or any outdoor activities that you may counteract to the water and muddy, you should take more care of your own foot. And the waterproof socks are the perfect one for you! Another thing is that a good pair of waterproof socks that won't chafe you while hiking and end up giving you lots of blisters, so please check out the sizing guides of the various waterproof sock manufacturers and they should be able to point you in the right direction.
How to wear waterproof socks
In order to keep your feet dry, when wear waterproof socks make sure to cover the tops of your socks with a waterproof layer (rain pants) during heavy rain or extended activities in light rain.
Maintenance of waterproof socks
Because there is a waterproof membrane inside the socks, you may wonder how exactly you be able to wash them and keep them clean and dry for my next use. Well, the answer is super simple! Just follow the wash steps listed below:
Step 1: Prepare a bowl with soapy water. It's important to remember just use cold/warm water otherwise the high temperature may damage the integrity of the inside waterproof membrane.
Step 2: Turn your Waterproof Socks inside out, and hand washes them in the soapy water. If you don't have soap at hand until the socks are clean. Remember hand wash is better than washing with the machine and won't damage the product or affect the nature of the waterproof lining.
Step 3: Turn them inside out again and clean the outside layer as well. Wait for them to dry, and you can turn them inside out when the outside layer is dry to let the insider layer dry faster. Then the are ready to use again! Super simple!