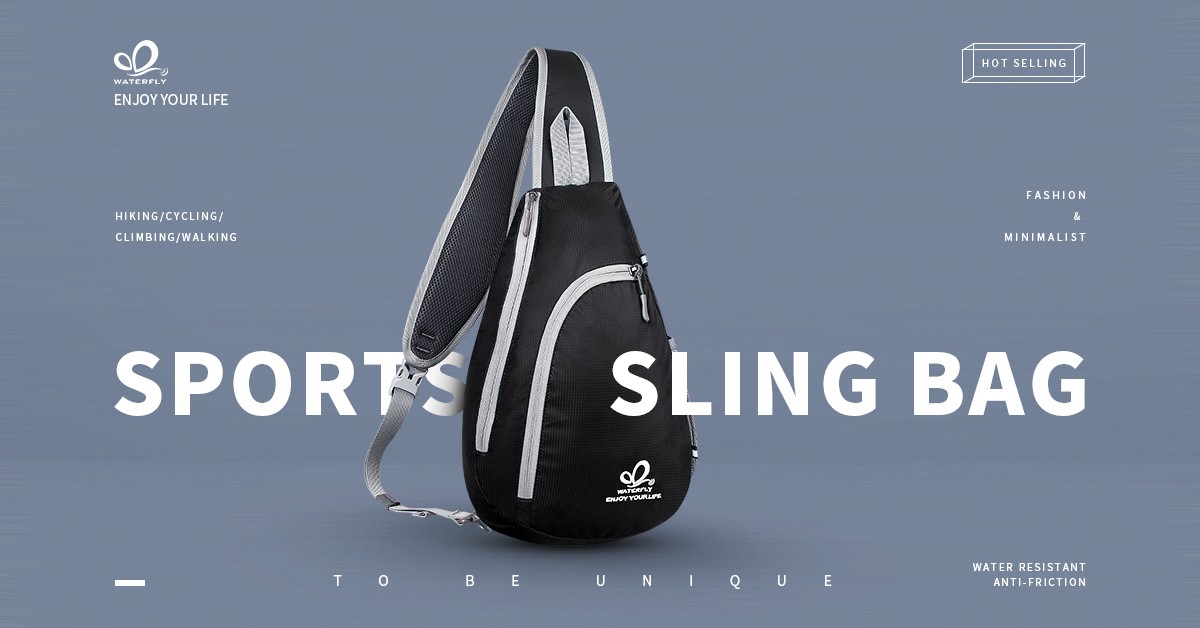 WATERFLY Sling Chest Bag Review
Fashion Sports Sling Bag
Every situation you might have been there: it's too crowded on a train and without spare space and gear to keep our bags, or maybe it was on a tiny plane where luggage space was at a premium. No matter what's the scene differences, the problem remains the same. There's a clear need for a handy and portable travel gear that keeps all your belongings organized.
Sling chest bag is a perfect combination of messenger bag and backpack, whether for daily use or traveling or sports, it is able to hold as much as a backpack and lightweight as a messenger bag. In this post, we take a detailed look at one of the most popular sling bags – WATERFLY sling chest bag which gains thousands of favorable reviews on Amazon, so let's see what's special about this sling bag.
Design & Appearance

WATERFLY sling bag comes with a transparent plastic packing with a striking WATERFLY logo printed on it. When I took the bag out, there is no waste paper or foams in the bag to support it, but just a few crease on the surface and non-deformation.
The net weight of this sling bag is 230g/0.51lb., ultra-light and portable. You can see there is a WATERFLY logo on the front and the slogan "enjoy your life" embroidered on the strap pocket, extremely delicate and casual.
What impressed me most is the back part, there are 2 D-rings respectively on the back corners, with a swivel clip on the strap end, you can fix the strap on the left or right D-ring according to your preference, that's really a humanized design for everyone, but it is a pity that the swivel clip is a little hard to open, so you have to press it hard to make it separate from the D-rings. I think this clip is necessary to be improved.
Nylon Material
When I touch the surface of this bag, I can clearly feel the lines on it, for the outside material is 100% nylon. As we known, nylon has a special profiled fibre, which enables the fibre full of lustre and effectively anti-pilling and reduces static.
Nylon is widely used in textile industry, it is a good substitute for polyester and cotton in some areas for its well synthetical performance, including heat resistance and wear resistance, the wear resistance property of nylon is up to 10 times than cotton and 20 times than wool.
WATERFLY sling pack adopts premium nylon material outside and polyester inside, so it is wear resistant, anti-friction and easy to clean, effectively prevent the sling bag from tearing, wetting and ripping. Along with smooth top-notch SBS zippers and YNS buckle, to be honest, it is really a perfect companion even in extreme weather and conditions.
Waterproofing Performance Test
You might doubt that if this thin bag is really waterproof, in fact, I did not believe this before I received the bag, so I took a test on it.
I put the bag on a desk flatwise and put a piece of tissue inside (to test if the water permeate in), then splashed some water on the surface and I found the water concentrate to the center quickly just like water drops on a lotus leaf; after half an hour, I checked if the tissue inside was wet and found that apart from the embroidered logo area is a little moist, other areas inside are totally dry without water permeating in; the surface is completely dry after I shaking the bag and wiping the water by tissues.
So you can see in this test, the nylon material is absolutely waterproof apart from some edges and logo area and the surface can be cleaned easily. Waterproof feature is really a highlight of this bag, for most sling bags are water resistant for some time but not last for long, WATERFLY sling bag realized this feature for all of you.
Multiple Compartments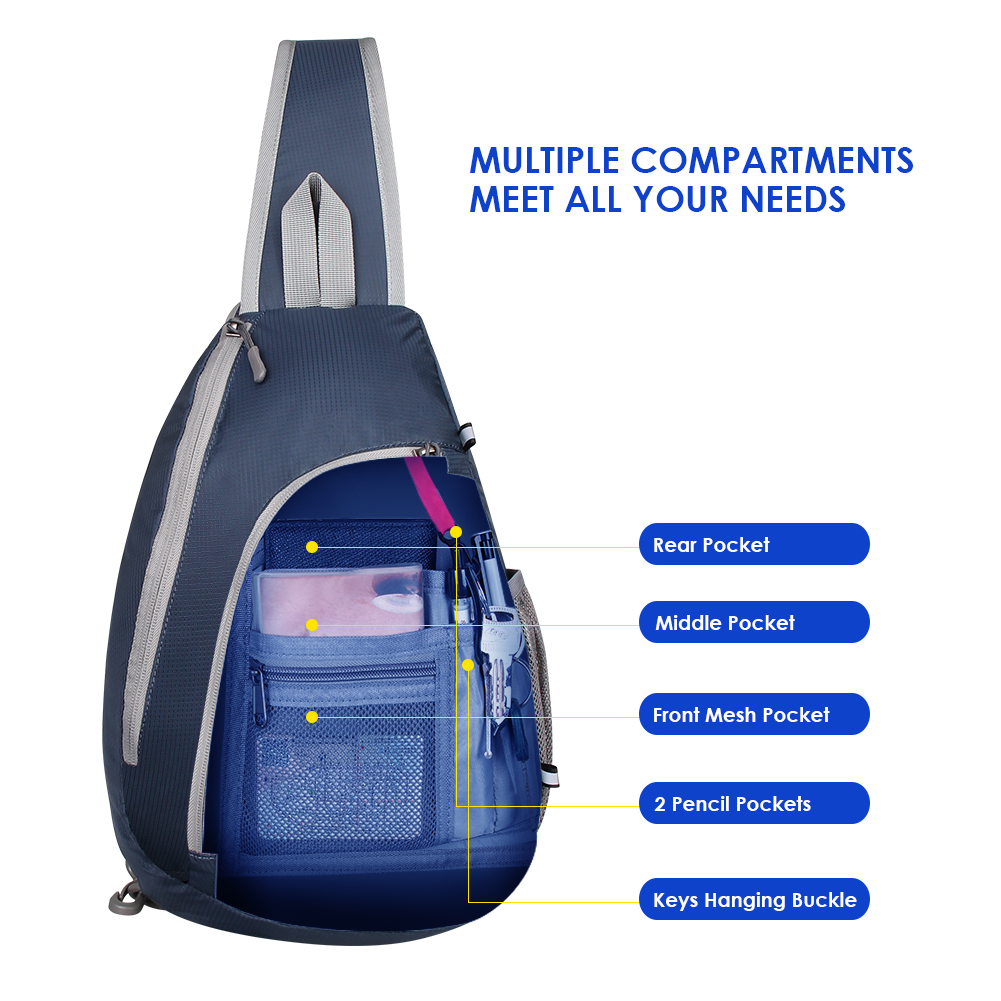 WATERFLY chest bag looks not so big, but the inner space is spacious with multiple compartments. Inside the main body is a single pouch pocket along the back that is 7.5 inches wide, great for stashing your guidebook (or a tablet like iPad 5) and keeping it separate from other items. The remainder of the main body (10 x 13 inches) is open and could easily fit a water bottle and sack lunch. Or, in my case, a large first aid kit.
The front pocket features an abundance of pockets that are incredibly handy! First there is a 4×4 inch mesh zippered pocket. Behind it is a 5×4 inch open top slip-pocket for a cell phone, bottle of bug spray or sunscreen. Behind that is a large 6 x 5.5 pocket for your largest items. To the right of the mesh pocket are two pencil pockets, large enough to hold a standard Sharpie marker. (For some reason pens and markers are so hard to find when you're at camp yet you always seem to need one!) A red key clip dangles securely in front of the pockets.
There is a small mesh pocket on the side for water bottle. The pocket mouth is not so wide about 3 inches but it is elastic, so you can put in/out your water bottle easily.
On the cross body strap is a 7×3 inch zippered pouch. it's long and deep, ideal for holding anything you need frequent access to, like a bug bite stick, a pen, chapstick or essential oils, as well as ideal for 5.5 inches phone like iPhone7 plus and Samsung GALAXY C8.
Stitched into the side body of the bag, near the mesh cell phone pocket, are two back and reflective silver gear loops. They are large enough to slip a carabiner through to attach additional lightweight objects.
Breathability & Comfort
The back of the bag is a black padded mesh which will help keep your own back and shoulders from becoming chaffed and overheated. The upper part of the shoulder strap is durable and wide enough to reduce pressure and allows it much more comfortable to wear; while the lower part can be disconnected and clipped to a second attachment point on the other side so it becomes a left-handed cross body bag if desired. The body strap can be adjusted from 29 to 44 inches, suitable for both males and females.
Price
After reading the following review of WATERFLY sling bag, you might think it is expensive, right? Come on ~ I promise WATERFLY is an affordable brand for all of you. Now you can get it on Amazon for only $ 17.99 +! Surprise?
Conclusion
Honestly, I didn't expect too much before I received it, WATERFLY sling bag is out of my expectation and brings me too much surprise. No matter the materials, capacity or properties, it is really of good value and worth buying in my opinion. Hope this post helps you while choosing an ideal sling bag.