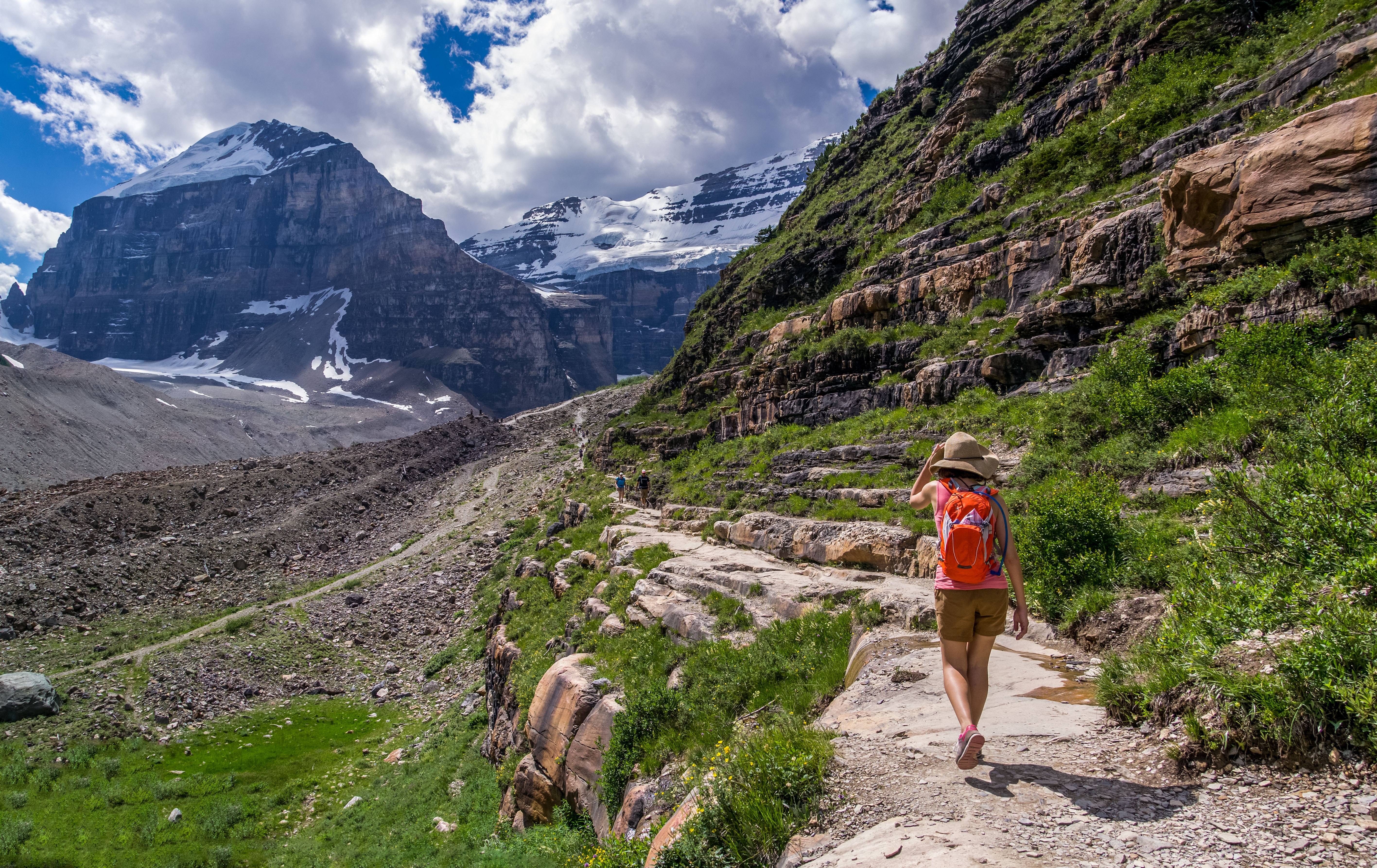 Must Read | The 11 Best Hiking Backpacks (2019)
Whether you are heading to the mountains for a quick hike or for weeks at a time, you need to make sure you have the right gear.
I've been hiking for nearly ten years and have tried out over a dozen awesome hiking packs… This is why I wrote this article on the best backpacks for hiking and adventuring to help you find your soul-pack.
Trekking is one of my favorite past-times when traveling. To me, getting out of the city and into the woods or mountains is crucial. It helps reset my batteries and feel connected to nature. Plus, it's free! As a broke backpacker, I spend a lot of my time camping out and hiking in the mountains.
I have a sneaking suspicion you feel the same way   🙂
But unfortunately, choosing the best backpack for hiking isn't easy…
The internet is flooded with outdoor brands, all of which claim to make the 'best' hiking packs. And some of the options on the market are rubbish. 
As a ten-year world traveler and experienced hiker, I've personally tried every one of the hiking backpacks in this post on different hikes and expeditions.
In this article, I assess the best hiking packs for you. I lay out my top picks for my favorite hiking backpacks, and I'll introduce you to my favorite outdoor gear company.
With the help of this article, you'll know exactly what to look for when picking out the best backpack for your hiking adventures…
These are my top hiking backpack recommendations. Let's dive in.
Quick Answer: The Best Hiking Backpacks
IMAGE

PRODUCT

OUR TOP PICK!

Osprey Aether AG70

Feature Highlights: 210D Nylon Dobby Body, 210D High Tenacity Nylon Accent and 500D Nylon Packcloth Bottom

Weight: 5 lbs 3 oz

Capacity: 70L

CHECK ON AMAZON

TOP ULTRALIGHT HIKING PACK

Osprey Exos 58

Feature Highlights: Accommodates up to 3 liters of hydration and 100d high tenacity nylon

Weight: 2 lbs 11 oz

Capacity: 58L

CHECK ON AMAZON

TOP SMALL HIKING PACK

Deuter Speed Light 20

Feature Highlights: Provides carry comfort for light loads with a padded back panel fully lined with ventilated 3D-Air Mesh

Weight: 1 lbs 1 oz

Capacity: 20L

CHECK ON AMAZON

BEST VALUE PICK

Berghaus Freeflow 20L

Feature Highlights: V fresh air Technology allows airflow between the pack and your back

Weight: 1 lbs 14 oz

Capacity: 20L

CHECK ON AMAZON

MOST COMFORTABLE HIKING PACK

Deuter ACT Lite 65

Feature Highlights: Distributes weight effectively so you can go further without discomfort

Weight: 4lbs 6 oz

Capacity: 65L + 10

CHECK ON AMAZON
Factors to consider when picking out the best hiking backpack
Comfort
Cost
Weight
Durability
Frame
Volume
Material
The Cool Factor
Comfort is crucial
The most important factor when choosing a hiking backpack is to pick something that is comfortable.
If you are carrying a heavy load in your pack you will definitely 100% need a hip belt so that you can take the majority of the weight onto your hips rather than having it hanging off your shoulders and straining your back.
I've carried 20kg over eighteen days for hundreds of kilometers relatively comfortably as I had picked a backpacking backpack with a really well designed, well padded, back and hip belt. In my opinion, the most comfortable hiking pack is going to have a ventilated back, a thick and comfortable hip-belt and the ability to adjust in several places.
Next…
You get what you pay for
I'll level with you right now – the more you spend, the better a hiking backpack you will get.
Quality hiking backpacks are not cheap and whilst there are some good value options on the market, it's best to think of this purchase as an investment. I recommend spending a bit more so that you can buy a hiking backpack with a lifetime guarantee – that way you can be sure it will last forever!
In my opinion, it's worth spending the extra money and choosing an Osprey hiking pack as that way your backpack will be covered by Osprey's almighty guarantee – meaning they will repair or replace it, no matter what happens.
Go for something lightweight
You want your backpack to be as lightweight as possible whilst still being incredibly tough and durable. I once had an ultralight backpack but it broke pretty quickly as it just couldn't stand the wear and tear of being thrown around.
The best backpacking backpacks are lightweight anyway so this isn't such a big concern. If this is a big concern for you, choose a daypack for hiking instead.
You want a tough backpack for backpacking
You want to choose a rough and tough pack that can take a beating and still come out smiling. These days, most backpacks are tough but you want to find something that is also water-resistant to keep your stuff from getting soaked during sudden downpours.
No matter how tough your pack is it will eventually get damaged if you use it constantly – I live out of my backpack – so again, try to pick a hiking backpack with a lifetime warranty.
Check out our list of awesome waterproof backpacks.
Internal frame backpacks are best
I always recommend going for a backpack with an internal frame. The best backpacks for hiking have the rods that support it built into the bag instead of outside of it, which makes it super practical and easy to carry.
External frames make your bag heavier and, believe me when you are hiking in the wild, the last thing you want is a bulky, complicated backpacking backpack to slow you down. Pack light and you won't need a big frame!
Volume is key
Contrary to popular belief: go small or go home. It doesn't matter if you think you are a light packer, if you carry around a big backpack, chances are it is going to be filled eventually with tons of stuff you don't actually need.
Choosing a bag with a smaller volume will help you to economize space and keep your luggage light.
If you are hiking in a snowy area you might want to go a size up, but otherwise, the best backpacks for hiking should be between 40-50L.  Personally, I have one 70l hiking backpack for big expeditions and a smaller 30l backpack for day hikes.
Material can make or break…
If you are into hiking, you should know that, eventually, you will need to face the elements. Rain, heat or even snow, everything can happen when you are out there in the wilderness.
Therefore, choosing the right material is crucial when you are planning to buy one of the best backpacks for hiking.
Light and resistant materials like Dyneema are ideal, especially because this fabric is water resistant. It can be more pricey than other fabrics like nylon, but it is worth the investment, I promise!
The sexy-factor!
If you are already putting some money on one of the best backpacks for hiking out there, at least you want to make you that it looks good on you. There are plenty of options regarding colour and style, so choose one that makes you feel sexy… Well, as sexy as you can feel in the middle of a muddy jungle!
Best 'All Rounder' Hiking Backpack
Removable top-lid converts to DayLid daypack

Dual access side stretch mesh pockets

Lower Inside-Out compression straps
"Compact and easy to carry"
I swear by Osprey backpacks. They simply make the best backpacks around – period.
Osprey has consistently put out some of the best bags on the market, and the Aether (for men) and the Ariel (for the ladies) are two of Osprey's flagship backpacking backpacks.
The Aether/Ariel have all the advantages of every Osprey pack (all-mighty guarantee, durability, comfort), but the models are slightly smaller which makes it the best backpack for hiking if you are planning a short escapade.
For men – the Aether 85 pack is better if you prefer to carry some extra gear on your trekking trips, but 95% of the time I could easily get away with the space in the Aether 70l backpack on my hikes. If you prefer something a bit smaller, check out the Osprey Talon 33 or for the ladies, check out the Osprey Sirrus 36.
But there's more…
Pros
Lifetime guarantee

Perfect for hikers or travelers

Durable and comfortable
Cons
Huge – not ideal for short trips

Pricey
Additionally, the Aether and Ariel have plenty of pockets and compartments to keep things extra organized and an AirScape ventilated back panel to keep you cool on the warmest adventures.
If you are going to be camping out and need to carry a tent and a lot of gear, you will need a decent camping backpack and the Osprey Aether will not disappoint.
You can fit a lot of gear into this baby, and attach even more to the outside and still come out smiling as the Osprey Aether is one of the most comfortable big backpacks on the market.
Is the Osprey Aether/Ariel for you?
Osprey has been my go to for years, and for good reason. Their durability and design makes their bags perfect for hiking or traveling, and most importantly they are super comfortable. The Osprey Aether is my highest recommendation. Be careful on Amazon, a lot of the Aether's are overpriced. The links below are the latest price on Aether bags for 2018.  
Best Ultralight Backpack
An internal sewn-in backpanel sleeve with clip attachment accommodates up to 3 liters of hydration and Fabric-main 100d high tenacity nylon,accent 100d high tenacity nylon ripstop bottom 100d high tenacity nylon ripstop

The Exos peripheral frame is a 6065 aluminum alloy with an internal suspended cross strut providing excellent load carrying support.

The ExoForm sewn-in, EVA foam padded harness combines breathability and performance with seamless layered mesh
"Ultralight backpack with excellent comfort and carrying capacity "
If you are in the market for an ultralight, versatile, no bullshit backpack for backpacking or your next hiking trip or long-term travel adventure, look no further than the Osprey Exos 58 – one of the best Osprey backpacks around!
This is technically a minimalist backpack, weighing in at just 2.7 pounds. However, I would say it is on the larger side of the spectrum for the category. It does not have all of the bells and whistles nor the weight of a hiking pack that weighs 2 or 3 times its size.
The light wire alloy frame offers great support even when carrying loads up to 40 pounds. The AirSpeed 3-D tensioned mesh back panel was designed with the purpose of meeting all of your free-flowing air needs and offers great ventilation to keep your back cool. There are a solid 5 inches of air space between where your back sits and the frame of the backpack! Say goodbye to the swamp back blues!
Not too big!

Minimalist – only weighs 2.7 lbs

Lifetime warranty
Cons
Not big enough for long camping trips

Lacks features of the Aether 70
On the side of the backpack, you have dual access stretch mesh side pockets for storing water bottles and other gear with compression straps. At the bottom area of the Exos 58, you can attach your sleeping pad or tent using more compression straps. These straps are removable in case you are really counting ounces.
And, of course, the backpack comes with the Osprey lifetime guarantee, which is part of the reason my love of Osprey backpacks is so strong!
If you are interested in a lightweight, durable, comfortable pack with a generous amount of space for the ultralight category, then the Osprey Exos 58 is for you.
To find out even more about this awesome pack, check out our in-depth backpack review of the Osprey Exos 58 or read more about the coolest ultralight backpacks on the market.
Is the Osprey Exos 58 for you?
A bit smaller and a few less features than the Aether 70, the Exos 58 is the perfect backpack for someone who likes to hike quick and light. Also, you just can't beat that lifetime guarantee! The button below has a link to the latest price on Amazon. 
Best Backpack for Backpacking Long-Term
Deuter ACT Lite 65+10 Hiking Backpack – Discontinued
ENGINEERED WITH INNOVATION – Designed to keep the load weight close to the body this pack distributes weight effectively so you can go further without discomfort

BREATHABILE – Deuter's innovative AirContact ventilation back system uses a large open pore structure that creates an air pump effect, moving warmth and moisture away from the body; The result: 15% less perspiration than with other body-contour packs

LIGHTEN UP – Crossed aluminum stays create an ultralight, flexible, yet stable internal frame that follows your body movements; The profiled X-frame transfers weight onto the hips; Anatomically shaped hip wings ensure even, comfortable load distribution
Ok, so this is not a super light backpack, however, it made it to the list because it is super comfortable (maybe even one of the most comfortable hiking packs in existence) and well built for longer hikes.
The shoulder straps and waist belt are perfect for carrying heavy loads and its ventilation system keeps you cool and fresh, no matter the weather conditions, which makes it one of the best multi-day backpacks.
Pros
Extremely comfortable

Built for epic hikes

Great for carrying heavy loads
Cons
Heavy and huge

Mixed reviews for repairs

Subpar water resistance
The Deuter Air comes with a detachable rain cover that will keep all your belongings dry and with dual zippered cargo pockets that are super resistant.
I recommend this pack for long trekking trips or for people who like to carry a lot of stuff but don't want to splash out on the Osprey Aether. The Deuter Air offers great value for your money and is the best budget backpack in this size category, plus it's tough as nails and can take a beating on any adventure.
Is the Deuter Air Contact for you?
If you are a dedicated camper, who loves epic hiking – meet your soul match. While it is a bit on the heavy side, Deuters durability and comfort can't be matched and will pay for itself many times over.
Best Budget Hiking Backpack
Hike in comfort thanks to free flow V fresh air Technology to allow airflow between the pack and your back

Stay one step Ahead of the elements if the skies open with the integrated waterproof rain cover

Hydration pack compatible Allowing you to stay hydrated on the move
"The go-to backpack for short hikes"
I've been using my Berghaus Freeflow for three years now as my go-to ultralight backpack for day hikes.
It's one hell of a pack and is the best budget hiking backpack I've come across. It's pretty cheap considering the quality and it has plenty of pockets for storage, a padded hip belt, a safety whistle on the chest strap (always handy!) and a built-in rain cover.
Pros
Great price!

Small – great for quick hikes

5 year Plenty of features
Cons
Water resistance has mixed reviews

No warranty
It's the best 20L backpack around and is good for weekends or ultralight hiking rather than long trekking expeditions where you have to carry tents and food. It's hands down one of the best backpacks for hiking at the weekend…
Is the Berghaus Freeflow for you?
Are you looking for a light bag for quick weekend hikes? The Berghaus might be your soul-bag. Not good for epic camping trips, the quality of Berghaus has made it one of my go-to's for years for both traveling and hiking. The bag is often out of stock, the button below has the best availability on Amazon.
Best Small Hiking Backpack
Material: 420D nylon, 210D nylon, PU coating

Volume: 20L (1220cu in)

Shoulder Straps: ergoniomical
"Perfect for adventure racing, sports climbing, or trekking tours"
If you are heading into the hills for a simple day hike then you can probably get away with a small hiking backpack and the Deuter Speed Lite is that pack.
Designed with endurance athletes in mind, this is a great ultralight backpack, weighing just over 1lbs and is one of the best value small hiking backpacks on the market.
Pros
Perfect for day hikes!

Athletic design

Ultralight
Cons
Not good for longer hikes

Mixed reviews for women's sizing
The Deuter Speed Lite 20L hiking pack boasts four exterior pockets so there's plenty of storage as well as a detachable hip belt and a comfortable padded back with an air-escape feature meaning air can get between you are the back of your pack – this will keep you cool and stop you getting sweaty.
This is the best value backpack in this size.
Is the Deuter Speed Lite for you?
Not ideal for camping or longer hikes, if you are looking for a well priced super light backpack for hiking, it's hard to beat the Deuter Speed Lite. 
Best 40l Travel Backpack that can Handle Day Hikes
DIMENSIONS: Simple expansion process makes it easy to expand from a 20L bag to a 34L. Bag dimensions are 18.5″x5″x12″ and weighs 3lbs and 10 OZ. The innovative strap system adds a level of versatility to the bag that can help you look professional or escape the demands of your profession. Simply unsnap the back panel, tuck in the straps, and snap it back down to carry like a briefcase.

SAFETY: Exterior perimieter zipper are lockable zippers for added security. Hidden RFID blocking pocket on the back of the bag. Reflective printed ink make you visilbe at night. To enable screen reader support, press +Option+Z To learn about keyboard shortcuts, press slash

DURABILITY: Made from water resistant Kodra 500D Tarpaulin fabric. All exterior zippers are waterproof. Lifetime Guarantee
Looking for a backpack for your upcoming vacation and plan on doing a little hiking along the way? Don't want to lug around a 60 or 70-litre dedicated-hiking backpack while you're at it?
We understand that not everyone wants to carry a cumbersome hiking backpack on their trip abroad; at the same time, we get that people don't want to be limited to overly-specialized packs.
Luckily the Nomatic Travel Backpack is a superlatively well-rounded backpack that can handle all kinds of different scenarios. Many people remark that the Nomatic is the very best travel backpack around and we tend to agree with this statement.
The Nomatic Backpack is great because it is very light and very efficient. It uses every little bit of space possible and gets massive points for its organizational qualities. Seriously, this backpack gets pretty creative in terms of ergonomics and you can store a lot of different items in this bad boy.
The Nomatic is tough and comfortable enough to handle some hiking and many people have actually taken it on the trail with them. There's certainly enough space for some day trip items, like a water bottle and a basic first aid kit, though you'll obviously want to leave the bulk of your items back at the hotel.
Let it be said though that this is not a backpack for backpacking anywhere overly-rugged, nor is it a backpack for backpacking long term in Southeast Asia or elsewhere for that matter. The Nomatic is just too small and wasn't designed for these kinds of adventures.
For more information on the Nomatic Travel Backpack, check out our in-depth review here!
Is the Nomatic for you?
The Nomatic is a great hiking backpack for travelers who are on smaller trips and want to do a little bit of hiking. If you want to do a more intensive trek, you may want to invest in another backpack on this list though.
More Great Hiking Backpacks
Keep water bottles or other gear easily accessible in the side pockets featuring access from the top or side

External hydration sleeve in backpanel simplifies refilling and protects pack contents from spills

New hipbelt pockets provide secure storage that's easily accessible while hiking;  Perfect for digital cameras, GPS, snacks, etc.
"All-mighty guarantee – Osprey repairs all damage"
Yes, another Osprey, but I can't help it. This is the exact same backpack that I've been adventuring with for nearly ten years now. The best thing about Osprey is that they operate an all-mighty guarantee. This means that they will repair any damage done to your pack, no questions asked, for free. Forever.
Osprey packs are expensive but you are effectively buying a pack for life. I've had my pack repaired once by Osprey, four years ago, and I will soon be sending it in for some more minor repairs to belt buckles and a ripped external pocket.
This bona-fide adventure backpack is extremely tough; in ten years of constant backpacking I have never damaged or ripped the main pack's body and only minor things have broken (usually after five years!). The Osprey Aether 85 is a big expedition backpack; it's 85 litres, extremely comfortable thanks to the custom moulder hip belt, is compatible with hydration systems, has plenty of sections for storage and can easily be loaded up with a ton of stuff – I once strapped three tents to the outside and had a fourth tent on the inside plus cooking equipment, sleeping bags, food, clothes, electronics etc… In my opinion, this is the best trekking backpack made by Osprey.
You can fit everything in this pack and it will remain comfortable and manageable. I cannot recommend Osprey enough and this one is a great osprey lightweight backpack. If you want to go for something even smaller, go for an Osprey daypack instead.
WANDRD PRVKE 31 Photography Backpack
3 POINT OF ACCESS – Side Quick Camera Access, Lay-Flat Clamshell Opening, and Adjustable Roll Top. The roll top gives you quick access to the personal items in your bag. It also expands to create an extra 5 liters of space when you need it

CHECKPOINT FRIENDLY – This rugged photography bag has a laptop and tablet sleeve, which fits up to a 15″ Macbook Pro and iPad Pro and lets you breeze through airport security

CUSTOMIZABLE STORAGE – Removable, modular camera cube offers customizable storage for a complete camera kit (DSLR and up to 8 lenses); remove it to convert bag into a fully functional daypack
"Keeping all your gear safe"
The WNDRED PRVKE 31 is hands-down the best hiking backpack for photographers, case closed. This sexy, sleek, and superior-designed pack is chalked full of features and compartments that will hold a great deal of gear. I've been using one of these to carry around my Fujifilm gear – complete with 2 camera bodies, 3 lenses, and many accessories – and haven't had a problem yet.
If you want to truly turn it into one of the best backpacks for hiking, I recommend pairing this with the peak design camera clip so you can carry your camera on your hip or on the chest strap of your bag, making it accessible in seconds. It's an excellent hiking camping backpack if you are an avid photographer.
Since this is a guide for hikers, I must also say that the WANDRD PRVKE 31 is also a very comfortable hiking pack. Granted, it does get a bit uncomfortable once you pass the 15-kilo mark and the inclusion of some extra adjustment straps for the shoulders would've been nice. That being said, I wouldn't choose any other backpack for my photography trips other than the WNDRED.
For a more in-depth look at this photography backpack, be sure to check out our comprehensive review of the WNDRD PRVKE 31 here!
If you are looking for the best backpack for an alpine expedition, search no more! The North Face Cobra is one of the best backpacks for hiking because it is specially designed for winter environments. The pack comes with a ski carrying system and a variety of removable components ideal for snowy journeys. It is a great backpacking backpack as well and you could definitely use it on a trip around the world.
The North Face Cobra is ultralight and practical since it has external wand pockets that allow easy access while on the trail. Additionally, it comes with lash points, reflective hits and hip belt padding and if you are a North Face backpack fan this is probably the best hiking pack made by North Face.
If there's a perk of this particular backpacking backpack, then it's its multiple pockets and compartments. The North Face Banchee is one of the best backpacks for hiking because it comes with 8 different pockets ideally located in the back, the sides and even the hip belt.
There is plenty of space to store you traditional hiker gear and even a helmet, in case you want to add a bit of climbing in to your adventure.
Despite its spaciousness, the Banchee keeps it light. It weighs 3 lb and 10 ounces and it is very comfortable, which makes it perfect for challenging treks. If you're looking for the best 50L backpack for hiking – the Banchee is a solid choice.
Materials:G-1000

Outer material:500D 100% Polyamide, G-1000 HeavyDuty Eco: 65% polyester, 35% cotton

Concept:Trekking
This pack is ideal if you are a green trekker. The Fjallravn Kaipak is made from G-1000 HeavyDuty Eco fabric, which means that most of its materials are recycled and super friendly to the environment.
It is one of the best backpacks for hiking not only because it is ecological, but because its padded shoulders and hip belt are ergonomical and help you distribute the weight evenly. If you are an eco traveller you might consider this over one of the Osprey hiking packs… Although, honestly, I'm not sure if it could compete with the almighty guarantee that Osprey places on all of its backpacks.
This ultralight backpack is quite resistant and even waterproof since the fabric is waxed. The fixed torso design makes it quite stable, but less adjustable. The design is quite simple, but it still has enough pockets and compartments to keep all your trekking gears in order.
Conclusion: So, what is the best hiking backpack?
Honestly, it depends on what kind of adventure you are going on – will you be heading into the mountains for weeks at a time or simply going on day hikes?
I swear by Osprey – really there is no competition, Osprey definitely DO make the best packs in the world – the question is, can you afford the price tag?
I will hike with my Osprey Aether 70 litre pack on most multi day hikes and if I am on a multi-week expedition, I carry my Osprey Aether 85 litre pack, it's big but I find it super comfortable though so it's not really a problem for me.
For anything under a week, I carry the Berghaus Freeflow assuming I don't have to carry a tent and will be sleeping in huts or lodges.
"Yay for transparency! Some of the links in this post are affiliate links. This means that if you book your accommodation, buy a book or sort your insurance, I'll earn a small commission at no extra cost to you. I only link to stuff I've actually used and never endorse crap. Your support helps me keep the site going."
(Blog by Will Hatton from thebrokebackpacker.com)