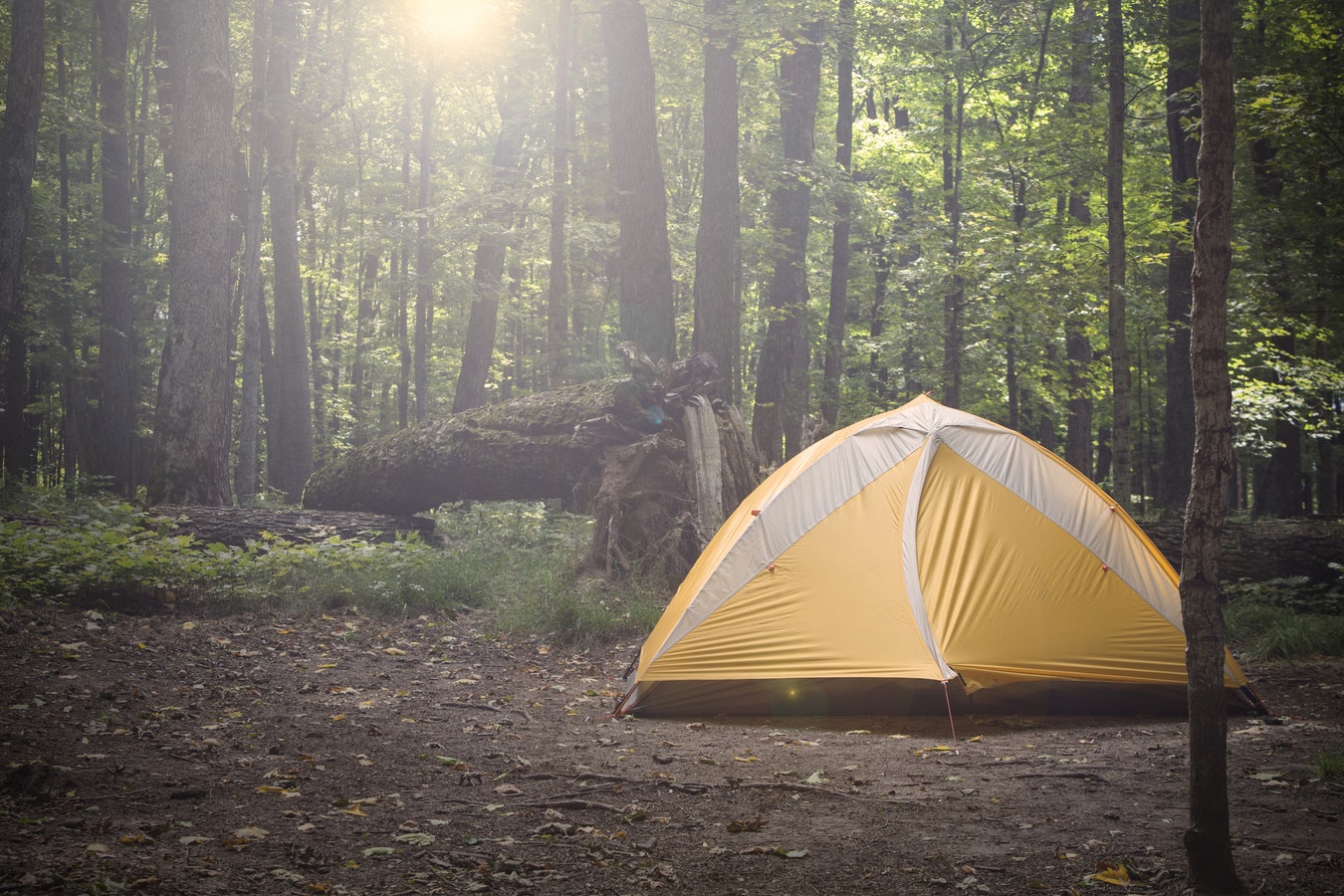 7 Most-Overlooked Essentials for Summer Camping
Although the summer camping season has not come yet, summer is actually around the corner, it is the best time to plan and prepare for a summer camping, no matter camping with friends or families.
There is no doubt that camping gears are one of the most significant parts of a camping preparation, if you don't bring the right stuff on your camping trip, you may end up with backaches, blisters or frostbite. The major equipment comes to your mind easily, such as the tent, backpack, sleeping bag, camp stove, pots, etc., however, some small but essential stuff might be overlooked by most of us. So here we compiled 7 most-overlooked essentials for summer camping in his post, you can find what you need here.
Stormproof Torch Windproof Lighter
A windproof lighter can be a good fire source for both cooking and roast, as well as for night lighting. The UCO stormproof torch lighter features a triple jet adjustable flame, which makes it one of the top survival torch lighters.
Available in two styles – one with 3 feet of emergency utility duct tape and one with a built-in bottle opener. This waterproof lighter carries a refillable butane canister that can hold enough butane for roughly 700 ignitions. Its piezo-electric ignition system lasts over 30,000 uses, and this survival torch is built to last. The net weight is only 3.4oz./96g, ultra-light for outdoor carry.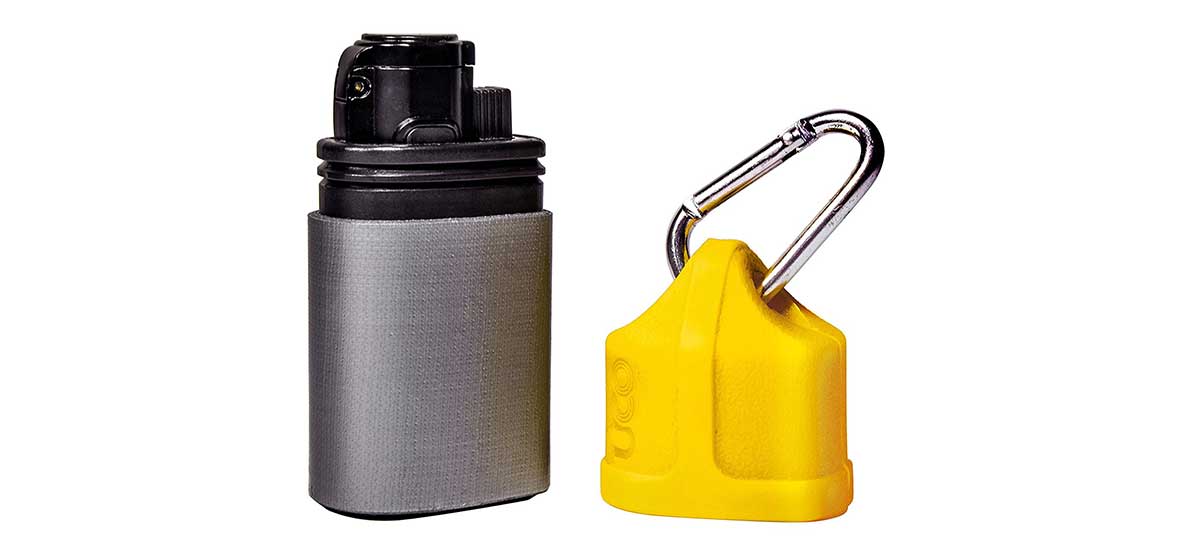 Available on Amazon for $15.98+
Mosquito Repellent Appliance
What's the most horrid factor to ruin a perfect outdoor evening? I believe the answer is the blood-thirsty mosquitos! Thermacell has created a mosquito repellent device that really delivers!
Thermacell mosquito repellent appliance provides up to 12 hours of 15-foot x 15-foot protective barrier against mosquitoes, black flies and other biting pests. It Includes two refill packs, each with 3 repeller mats and 1 butane cartridge – enough for 24 hours of biting insect protection. The army green holster can be attached almost anywhere, making the device truly portable.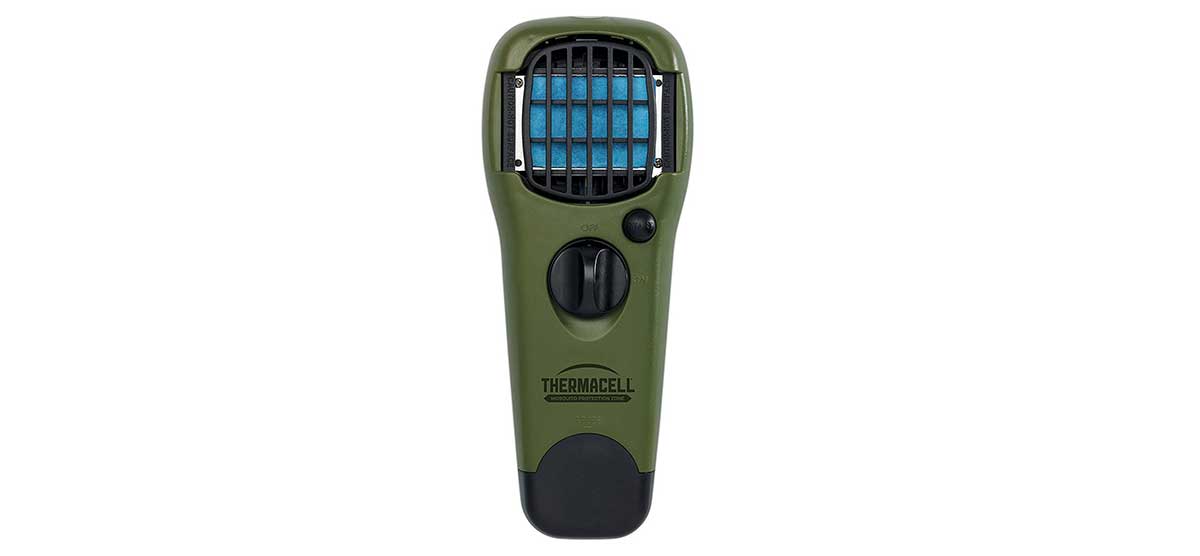 Available on Amazon for $49.99+
A hammock can add much extra enjoyment for a summer camping – you can enjoy the soft wind on the river bank in the afternoon in your hammock or view the stars in the night sky in the evening freely.
ENO Eagles Nest Outfitters single nest hammock is designed for comfort and easy set-up and can be folded into a small package for easy storage. Made of 70D high tenacity nylon taffeta, this breathable, quick-drying hammock supports up to 400 pounds (hammock straps not included) and built to last.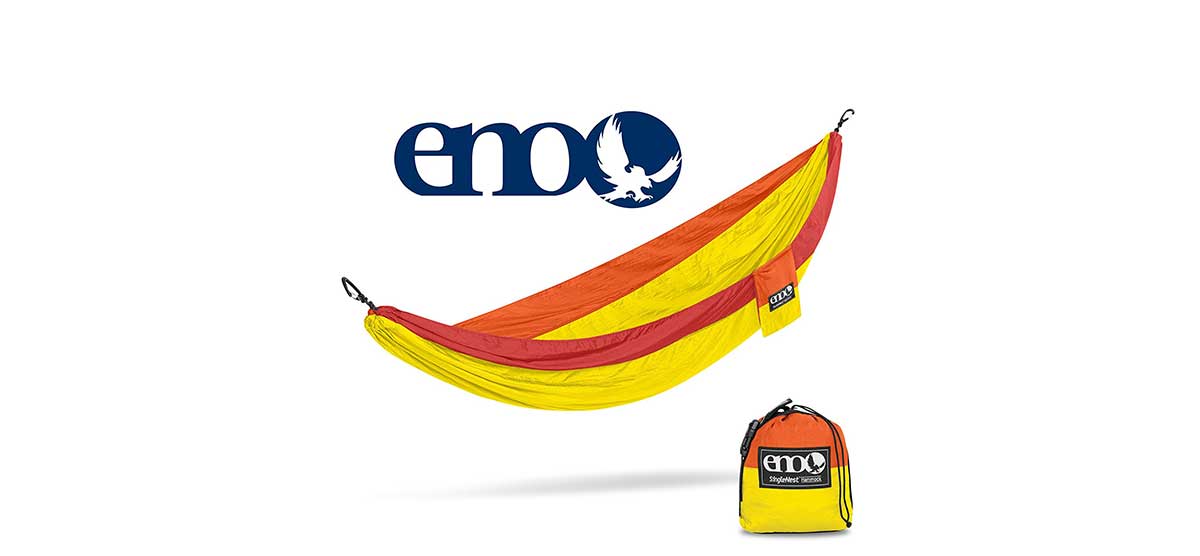 Available on Amazon for $59.95
Valuables like phone, cash, keys, GPS tracker should be kept in a handy pack, so besides your camping backpack, a lightweight fanny pack is necessary for your camping.
WATERFLY sports fanny pack G2 is the upgraded version of the original WATERFLY slim fanny pack, this slim and compact sized fanny pack can be wear on the waist without any burden, so you can take the valuables with you all the way. Several compartments in the main pouch allow you to keep the phone and other items separately, perfect protect your cell phone from being scratched, while the adjustable waist belt fits most adult's waist.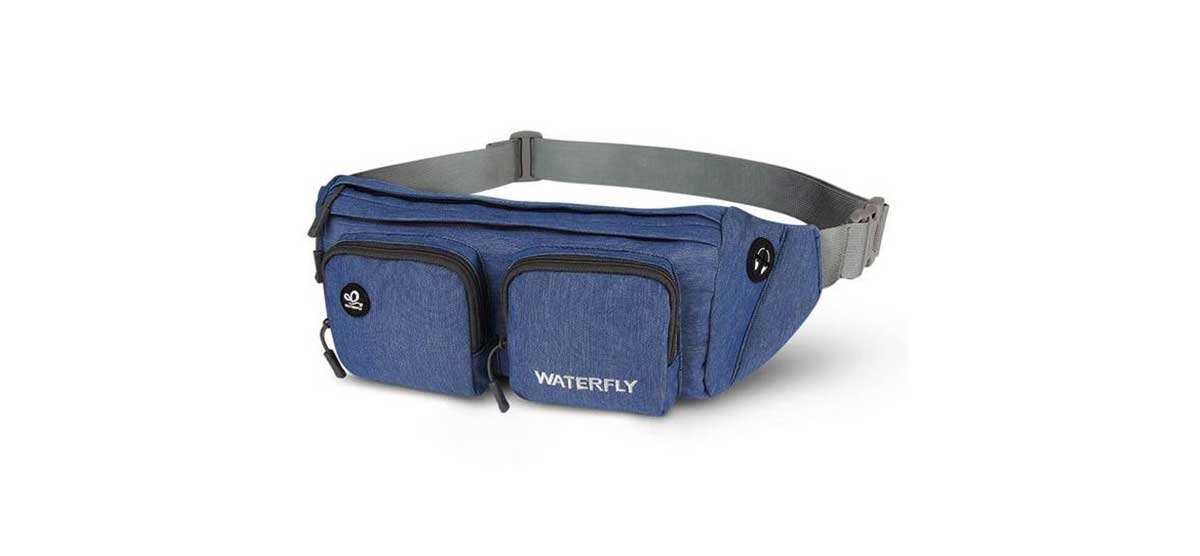 Available on WATERFLY site for $17.99+
A versatile army knife is a great tool for fruit cutting, firewood cutting, rope cutting, as well as a nice self-defense weapon.
The Texas flag super tinker Swiss army knife by Victorinox is a Swiss Knife Shop exclusive. This colorful tribute to Texas features 14 different functions – from reamer to Phillips screwdriver. The colorful flag design is imprinted on both sides of this special edition Super Tinker. Show your true colors when you make the Swiss Army Texas Flag Super Tinker your companion for life.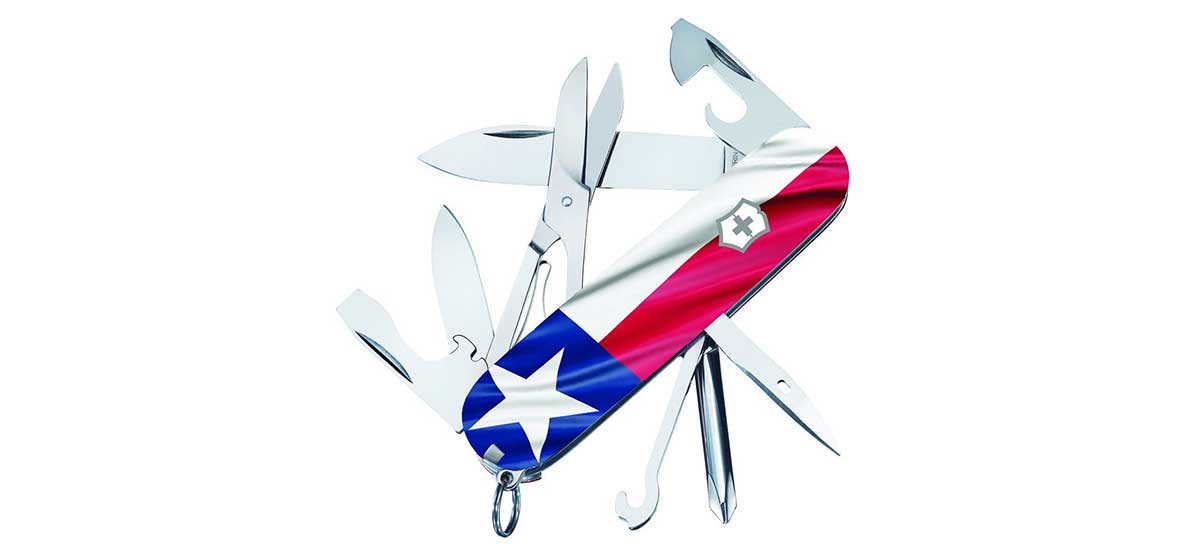 Available on Amazon for $36.99
Never think light the importance of a first-aid kit, sometimes it might be a life-saving gear for you in the emergency.
Swiss Safe 2-in-1 premium first aid emergency kit comes with 120 medical grade items in a compact, flexible, durable design (size 9x3x6″), weighing only 1.2 pounds. Including stainless steel trauma shears, instant ice pack, survival tools, PLUS, and additional 32-Piece Mini 1st Aid Kit. It is a necessity for every camper.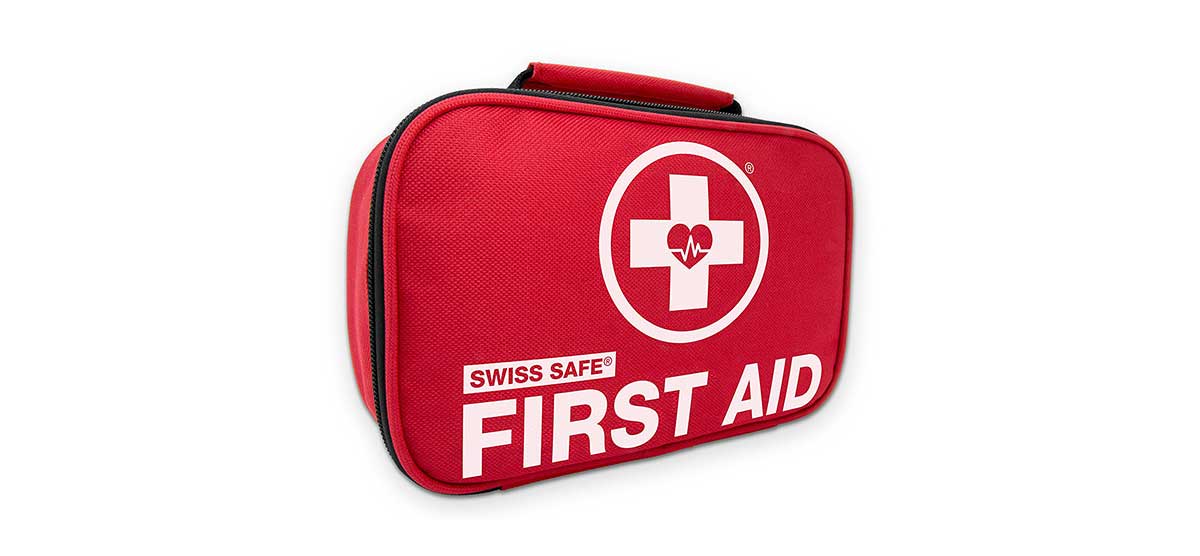 Available on Amazon for $27.95
Hand sanitizer? It is maybe a luxurious equipment for outdoors but trust me~ you won't regret if you take a bottle of hand sanitizer in your backpack while camping. For millions of invisible germs in the wild may attach to your hands or body while you are walking in the fields, the hand sanitizer can kill most of the germs in your hands before eating or drinking, effectively ensures your safety and health.
Purell advanced hand sanitizer with portable bottles attach to purses, backpacks, key chains, diaper bags or gym bags, and goes along where you go easily, four scents included and portable feature allow it fit for camping, travelling, hiking, etc.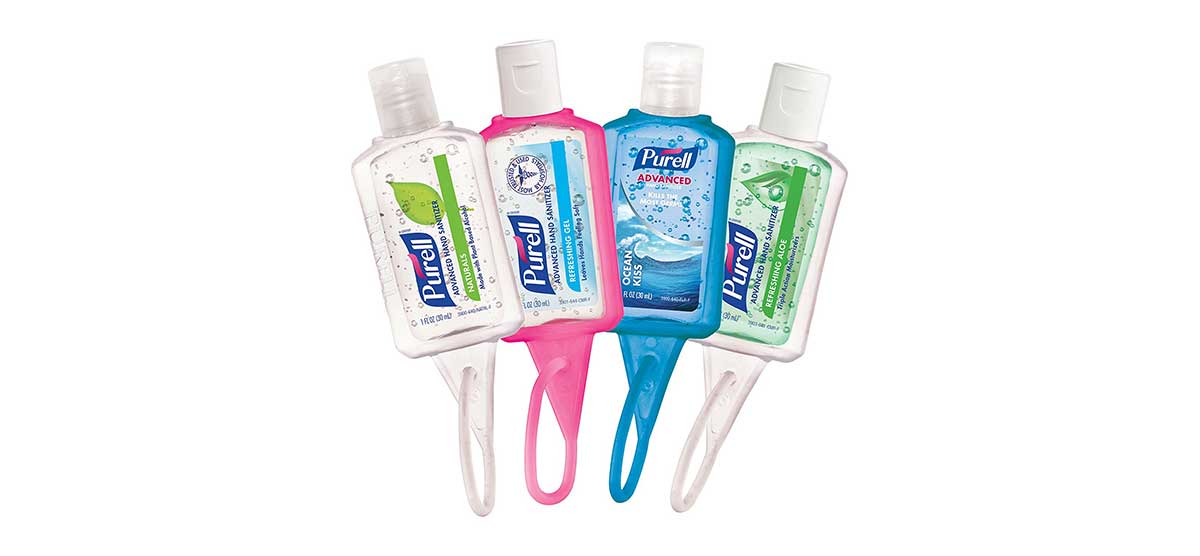 Available on Amazon for $10.99+