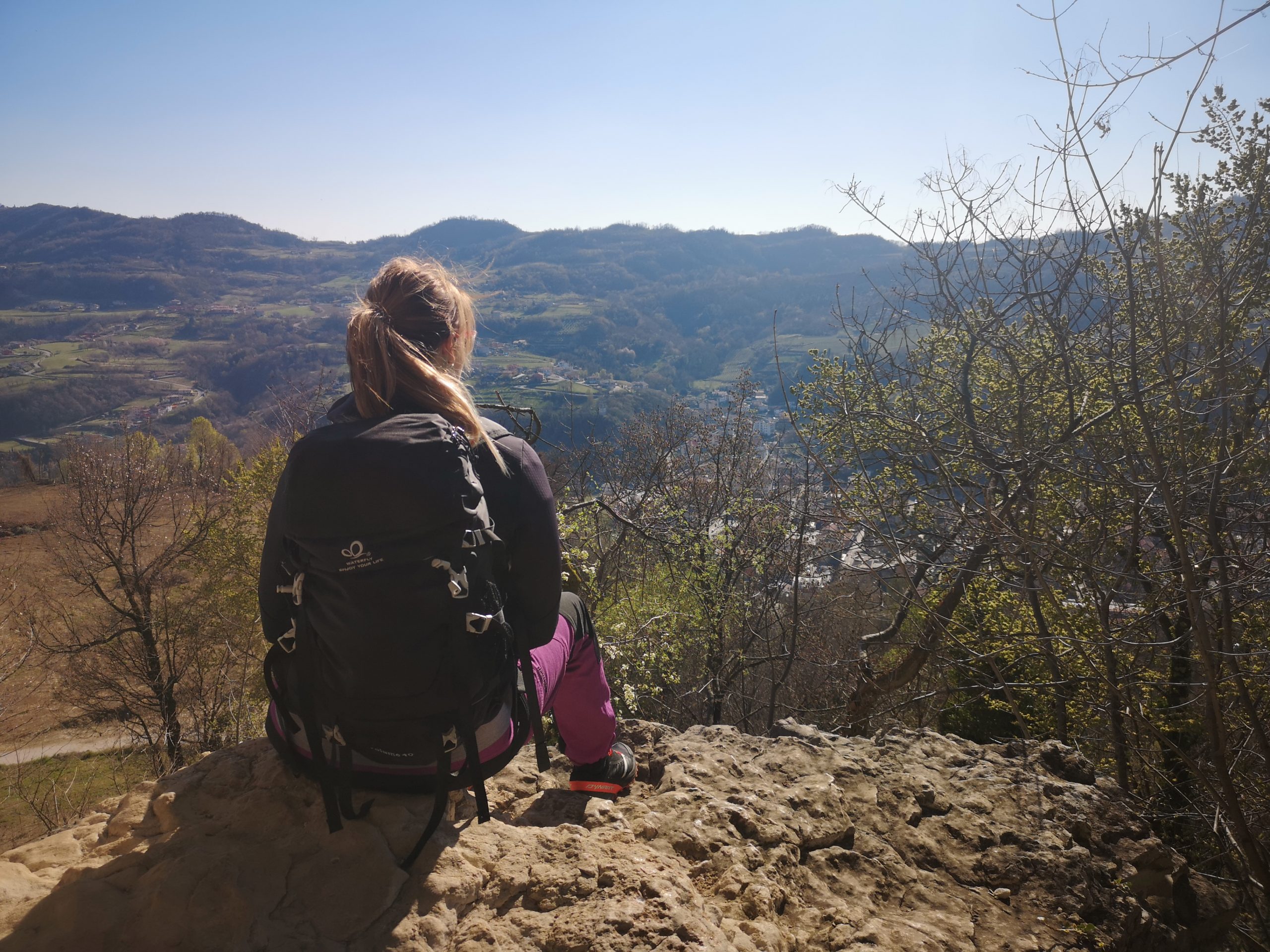 Top 8 Best Hiking Backpack in 2020
Every year there are about 40 million Americans will go hiking. Hiking is one of the most popular outdoor activities that we involve ourselves in nature, generally speaking, it lasts from several days to months at a time, so durable and superior hiking gears are essential for the journey. One of the most critical gears you can get as a backpacker is your hiking backpack. We provided you the critical considerations while choosing a professional backpack and surveyed hundreds of hikers and listed the top 8 popular hiking backpacks in this post for your reference.
What's Important While Choosing A Backpack?
A carrying system to a backpack is what bones to the human body, a great backpack frame can transfer the weight from the shoulders to the hips, carrying a heavy backpack is much easier if the weight is efficiently transferred.
Lightweight equipment can decrease the aerobic demand, including heat rate, calorie consumption, etc., thus allows you to hike faster and easier than with heavier gear. so the backpack is a critical gear to keep overall weight down.
Your backpack is the main storage for all the hiking equipment like a sleeping bag, tent, trekking pole, clothes, etc., so it is necessary to prepare a large capacity backpack for long-distance hiking, especially for the new hikers, an experienced lightweight backpacker usually can keep all their gears in a backpack about 40L-50L.
Most lightweight backpacks are made of tear resistant nylon material, which is also wear resistant, anti-friction and waterproof, suitable for extreme weather and conditions.
The fit is one of the toughest features of a backpack for it can't be measured until you have a pack fully loaded on your back. But you can choose backpacks with adjustable straps and carrying system. The length of the backpack's backpanel has to match your torso length so that the backpack sits comfortably on your back.
Price is a practical consideration you must take into account while choosing a hiking backpack. An ideal backpack should never break the bank.
Top 8 Best Hiking Backpack in 2020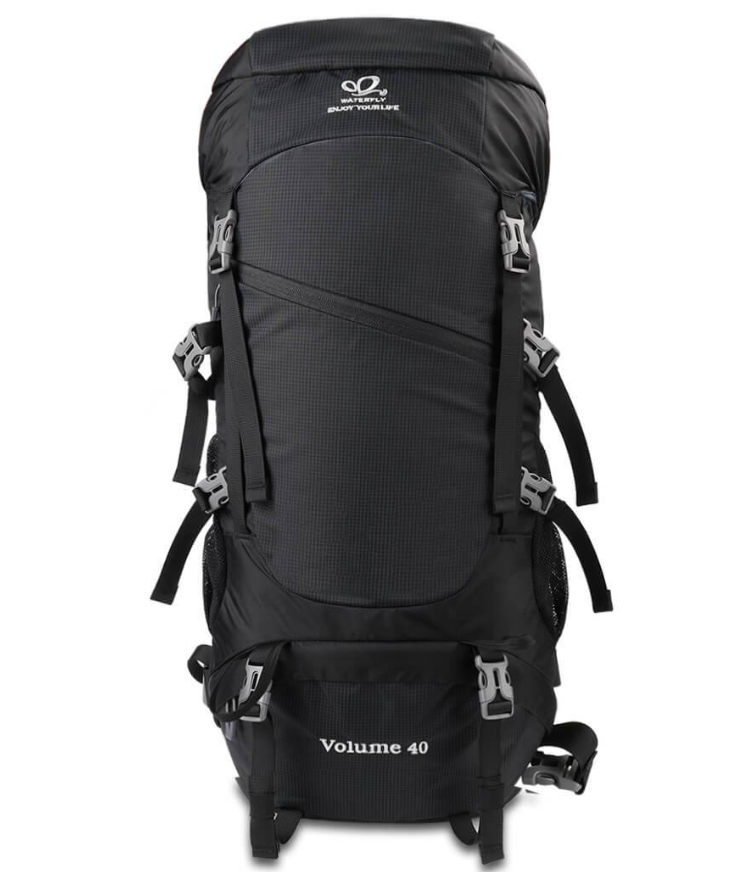 WATERFLY 40L hiking backpack is new on the market, but surprisingly, it is one of the best-recognized high-performance backpacks currently on the market.
40L large capacity of WATERFLY backpack can hold most of your outdoor necessities organized; while the water-resistant nylon material is super durable and anti-friction for extreme environment and weather; in addition, the net weight of WATERFLY backpack is only 4.7lb./1.58kg, much lighter than the same volume backpacks.
The main highlight of this backpack is the adjustable carrying system. There is an adjustable panel with mesh sponge inserted in the back metal frame, it is breathable and durable, you can adjust the straps length and panel to a comfortable position for maximum reducing shoulder and back pressure. So you can enjoy the maximum comfort in your journey.
It is not only attractive in quality but also in price available on Waterfly shop for $49.99
2.Arcteryx Bora AR 63 Backpack
Arcteryx is famous for its top-quality outdoor clothing, and now it also makes great backpacks. Arcteryx Bora backpack – one of the most sophisticated mountaineering backpacks, which is the first backpack Arcteryx launched in 1993.
N400r-nylon 6 ripstop is durable and lightweight; the shoulder strap harness system allows for custom fit both vertically and horizontally; Arcteryx Bora backpack is breathable and comfortable for its Thermo-molded Tegris frame sheet and aluminum stays, as well as ventilated backpanel. However, the price has also gone significantly up with every redesign.
With regular and tall size available on Amazon for $549
3.Osprey Ariel 65 Women Backpack
You can find all the bells and whistles you'd expect on Osprey Ariel, which is one of Osprey's most popular backpacks. The shape and color of Ariel are specially designed for women.
The 65L Ariel has lots of pockets and compartments, ideal for keeping your hiking gears organized on the trail. 210d nylon surface and bottom 500d nylon packcloth allow it durable and tear resistant. The AirScape back panel lets air ventilate through easily and always keeps your back fresh and dry in warm weather; while LightWire™ peripheral frame effectively transfers the load to the hip belt, which makes your journey much easier.
Everything is OK, but the price $310 is little expensive, it is a nice choice if affordable.
4.Gregory Baltoro 75 Backpack
The Baltoro has won countless awards for being an extremely comfortable and high-performance pack. The vented back panel features LifeSpan foam & silicone lumbar grip for a precise fit, breathable and comfortable for backcountry adventure seekers.
More highlights including the waterproof hip-belt pocket, which fits for a small camera and other quick-accessed items, while the clever hydration sleeve can convert into a daypack for individual use.
3 colors are available on Amazon for $190.85+
5.Deuter Aircontact 65+10
Featuring bombproof fabric construction, robust pocket materials and a double layer base, Aircontact packs are constructed of tight woven and ripstop fabrics with a waterproof PU coating to endure heavy loads and withstand the elements mile after mile. Stable multi-chamber aluminium X-frame transfers the load to the hip belt and its Aircontact system offers great support for carrying heavy loads as well as breathable, keeping moisture from building up on your back while walking.
Head molding and positionable lid pocket with compression strap allow freedom of head movement and add extra volume to this backpack. The aircontact pack weighs 6 pounds, actually, it is not so lightweight.
3 colors available on Amazon of $299.99

The North Face Banchee 50 Backpack is smaller by comparison and designed for carrying less weight. The limited interior volume and 50-pound capacity benefits those who need to carry smaller, heavier things, such as cooking supplies and food.
210D ripstop nylon allows it durable and wear resistant. One of the top features of this pack is the light weight (3lb. / 5.6oz.), it is ultra-light while being extremely supportive. It can handle heavier loads more comfortably than most other lightweight packs.
3 colors available on Amazon for $200.05
Granite Gear Crown2 (men's & women's) is a newly redesigned backpack, which serves as a comfy lightweight pack with 60L large volume and an affordable price tag.
With a fully-adjustable hip belt, it is easy to be adjusted according to your waist; dual density shoulder harness with load-lifter straps and removable sternum strap allow it durable for the heavy load; while the removable top lid has a compartment with DWR treated zipper for small items storage.
Its simple frame consists of a molded foam pad and full-length, removable plastic sheet. This pack has a large volume, but it also compresses nicely when not fully loaded.
2 colors available on Amazon for $199.90+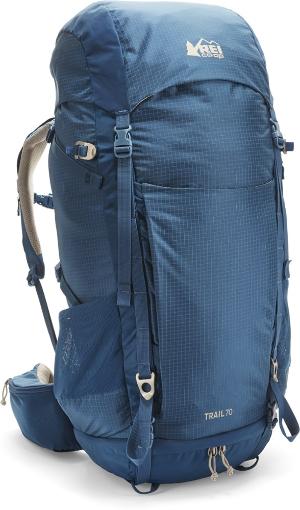 The net weight of this 70L REI Co-op backpack is 5lb./2oz, which is comparative lightweight among most large volume backpacks.
The padded back panel can be adjusted to fit multiple torso lengths and features a central chimney to allow airflow and improve breathability; plush and 3D-contoured hipbelt delivers all-day comfort and stability; while there is an included lumbar pad can be removed to adjust the girth fitting. Attachments and loops on the front and side of the pack are ideal for hanging trekking poles, ice axes, tools and more.
It is now available in REI Co-op online shop for $189