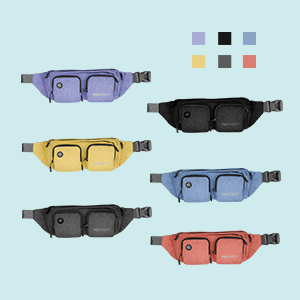 The Best Fanny Packs of 2020
Our Top Picks
Best Overall: Waterfly Fanny Pack
This low-profile bag is great no matter where your travels take you, thanks to water-resistant construction and a sleek shape that's comfortable to wear. While it's not ideal to wear out when swimming, it'll protect your gear in rain showers or other light, but wet conditions. One main double-zippered compartment keeps bigger necessities like sunscreen and phones safe, and there are two front pockets and a secret pocket on the back, which is great for extra cash and other valuables. The belt extends out to 50 inches, but if you need an extension, an add-on strap can be purchased, too.
Runner-Up, Best Overall: Jansport Fifth Ave Fanny Pack
Jansport has been making fanny packs since they were first considered cool, and their Fifth Ave model is the perfect basic belt bag for hauling essentials. Two zipper pockets — the main compartment and a smaller front pocket — keep essentials like keys, cash, and your phone separate, yet easily accessible. It's made with durable polyester so it'll hold up, even as an everyday carry bag. If black isn't your style, there are a ton of other color options available, including purple, camo, denim, pink, green, and more.
Best for Durability: Herschel Fifteen Fanny Pack
BUY FROM SHOPBOP.COMBUY FROM NORDSTROMBUY FROM BLOOMINGDALES.COM
Herschel's fanny packs are some of the best, thanks to a streamlined look that won't overwhelm your outfit and high-quality construction that will see you through travels, festivals, and your usual slate of weekend errands. This pared-down canvas belt bag holds all the essentials but keeps things stylish with a gold-tone zip. It's also easily packable for trips, so you can tote your big, travel-day bag at the airport but have this ready once you're on the ground.
See more reviews of our favorite Herschel luggage items available for purchase.
Best Splurge: Welden Rove Belt Bag
It's always good to justify a splurge, and if you need another reason beyond this bag's beautiful woven cowhide leather detailing, there's a practical purpose, too: this belt bag is convertible, so you can wear it slung around your waist or as a shoulder or cross-body bag. You're essentially getting three bags in one, making for a reasonable investment. Unlike some one-compartment fanny packs, this one has some interior pockets, too.
Best for Men: Dagne Dover Ace Fanny Pack
BUY FROM DAGNEDOVER.COMBUY FROM NORDSTROM
Streamlined and low-key, Dagne Dover's Ace Fanny Pack is a great pick for men (and women). It has two zippered pockets on the outside, as well as a key clip, pocket for cards, and a stash place for chapstick on the inside. The belt conveniently clips in the front, making it harder for people to unclasp if you're in a crowd, too. It comes in a range of great shades and materials, from a persimmon-colored corduroy to olive neoprene, so there's plenty of options to choose from.
Sharing from :
The 13 Best Fanny Packs of 2020 BY KRYSTIN ARNESON