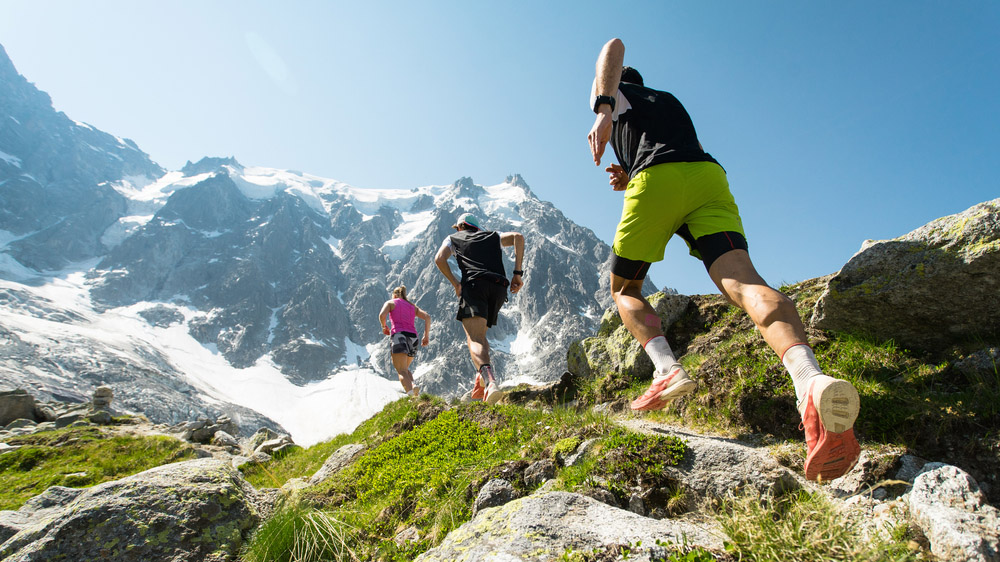 If you are bored with running on the same old road, why not try a trail running? Every trail has its own unique terrain and challenge. There is no single trail is the same! Running trail not only offers fresh air but also opens up a whole new world for you beyond paved surfaces. Heading to the hills for a slow ramble on your feet rewards a runner with a sense of adventure, the fun of running varied terrain, and views you don't get on your daily outings through the city.  You may think trail running is similar to running on the roads, well, there are some differences to make note of before you start the trail running. So, how to prepare for a trail running as a beginner? Here I will tell you what you need to know to start trail running, and this article will also summarize 6 basic trail running tips for you to get started trail running.
1. Plan Ahead Before Running
Allow enough time to train your fitness and your skills to a taper period before your event. This will prepare you for the challenge mentally and physically. Many race organizers offer 5k trail races, through to 10ks, half marathons. But as a beginner trail runner, you should just focus on the time amount instead of distance, start easy, and take time to build up your trail running confidence and ability. Try to mimic the conditions and terrain of your training.
2. A Good Place to Trail Running
When planning your first outing, it's important to notice that trail running usually takes longer than road running does for a similar distance. The rougher terrain will slow down your pace and engage muscles that you may not be used to using, so start slow and don't commit to a distance that you're not prepared for. Keep this in mind, you can search for the local roads and trails that good for running. A great introduction to trail running can be found on the local network of gravel roads and dirt trails that many towns and cities have. There are a variety of ways to find new trails and people to run with, looking for a city or state parks in your area, connecting with local running stores, running clubs to help find new places to explore. Be sure to take caution to the trails and ask about the specific nature of the trail, including wild animals, hazards, bathrooms, snakes, and anything you may need to know when running in a new area.
3. Trail Running Basic Gear
When you're first getting started with trail running, you don't have to buy a whole new set of running clothes. Considering the trail condition, here are a few new items you may want to look at:
Trail-running Shoes
Shoes are the main gear consideration for trail runners. As a beginner, you may ask what shoes to wear when running on trails? If your first trail running will be on a mellow gravel road it is OK with your road-running shoes, however, it is important to have trail running shoes when you encounter rocks, roots, and slippery mud on a mountain trail.   Trail-running shoes are beefier than road-running shoes and provide more traction, foot protection, and stability. Trail-running shoes fall within three broad categories: 1. Light trail shoes are designed for relatively uniform surfaces, like gravel paths and rolling hills. It provides modest protection from rocks and roots. 2. Rugged trail shoes are designed for running on hiking trails, which can range from a trail engineer's masterwork to an abandoned miner's track. Thus, this category covers the broadest spectrum of terrains. 3. Off-trail shoes offer all of the characteristics of rugged-trail shoes, and with the enhancement of materials and structure.
Running Clothes
Running specific clothes are lightweight and designed to move with your body. Your running wear should be made of moisture-wicking merino wool or synthetics, which is very fast to dry. Beware that fair-skinned folks can get skin damage in as little as 15 minutes of the midday sun, so choose sun protection can help to protect your skin from sun rays especially running in summer. (Check more information from our new article about Sun Protective (UPF) Clothing )
Running Socks
wear running socks that are a synthetic blend to help prevent blisters. Choose the style that works best for you and that works for the weather. Materials such as polyester can also be waterproof (ie. WATERFLY waterproof socks) and keep your foot dry.
Other Running Gear
There are a few additional items that aren't necessarily essential but can make a big difference in the quality and safety of your runs if you bring them along for the ride. The items include Sports watch, Running bag, and Navigation Tools. And you also need to consider the First Aid Kit depends on the time amount and the environments of your trail.
4. Water and Food to Carry on
Always carry additional water and food, even if you think you don't need them. When running for more than 30 minutes, it's important to consume water to stay hydrated. A general rule of thumb for fluid consumption during your runs is to drink 4 to 6 ounces of fluid every 20 minutes. There are a few convenient ways to carry fluids on the run such as a handheld bottle(recommend WATERFLY handheld bottle), waist belt with a soft flask, or a running Hydration Vest pack.
5. How to Trail Running
As a beginner for your first trail running, the most important thing is avoiding falling over or tripping when trail running. Most injuries in trail running come from a moment of lost attention, so be aware of the trail as it can change quickly. It is always better to look four to five steps ahead from you, this will allow you to have a better opportunity to pick the best path of the trail to run, and allow your arms to be relaxed and free to move to balance your body. You will find this concentration will leave you not only physically exhausted after the run but mentally exhausted. It allows you to free your mind and focus on that spot four steps ahead.
Based on, here are some Basic Trail-Running Technique from REI CO.OP's trail running experts recommendation
Use a short stride, especially as compared with road running. Keep your feet underneath you at all times to maintain your balance on variable terrain. Don't overstride.
Keep your eyes down and scan the trail 10 to 15 feet in front of you for obstacles. Try not to stare at your feet.
Swing your arms. This helps you to relax your core and keep your balance.
Lots of obstacles ahead? Be like a goat and pick the most sure-footed route.
Besides, you should always try to keep your back straight, many people injure themselves when trying to lean too much. when uphill, avoid the temptation to lean forward as this can reduce your ability to breathe effectively. when downhills, avoid leaning backward as this can strain your body and lead to injury.
6. Recovery After Running
The different movements and muscle recruitment in trail running can exhaust your body more than you realize. It requires extra attention during your recovery. You will also have to allow your muscular-skeletal system to adapt to the different movements and forces of trail running.
When making your foray into trail running, "Don't push at the beginning," as people say, "Let yourself progress."