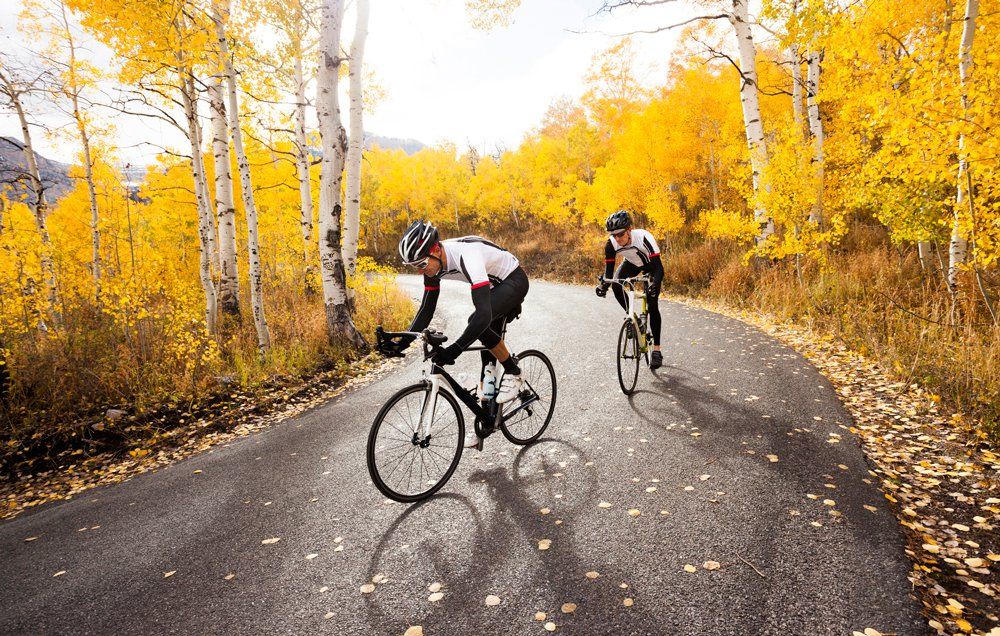 Best Cycling Gear And Bike Upgrades For 2019
It's less than a month to the Tour de France, the biggest spectacle in the cycling world. But whether you watch or care, whether you road ride, gravel grind, mountain bike or commute, you are part of a fast-growing community of cyclists that continues to expand and evolve. So, if you want to make this a better, easier, faster or safer year for cycling, or maybe you need a gift for a cyclist on your list, here are a few highlights of the latest and greatest for 2019.
Better Wheels: After the frame itself, there's no part of the bike that's more important to performance and efficiency than the wheels, yet ironically it's the one place many manufacturers skimp because they can save money and consumers typically shop for features (disc brakes, suspension, electronic shifting, etc.) or brand name component sets (Shimano, SRAM, etc.), but not wheel quality. I was recently helping a friend shop for a new road bike and was shocked to see name brand models in the $3-5,000 range with no-name wheels. At the other end of the spectrum, these days you can spend two, three or even four thousand dollars on a set of carbon road wheels, which is kind of crazy if you are not in the upper echelon of racing. If you want a lot of the bang for the buck and an immediate performance upgrade to most mid-level road, gravel and mountain bikes on the market today, consider new wheels.
Mavic has long been the gold standard for very high quality that delivers value, and the Ksyrium Pro UST is like the Rolex of the road cycling world, with many years of proven performance and accolades behind it. These are the wheels I chose several years ago when building my first custom road bike, and I was never disappointed. The current model Mavic Ksyrium Pro UST retails for $1,100 but can be had for under a thousand and is a bonafide top choice. They are strong, light, famously durable, have Mavic's quality hubs and now come tubeless ready. At just 1410 grams for the set they are lighter than many significantly more expensive carbon wheelsets and offer great ride and handling quality.
Need a gravel upgrade option? Check out Mavic's Allroad Pro UST Disc ($1,200) a set of lightweight tubeless gravel wheels built for disc brakes and featuring more durable hubs to handle rough roads. Mountain Bike? The Deemax Pro ($1,250) is the choice of Enduro champ Sam Hill, light, strong and come in today's most popular 27.5 and 29-inch sizes. Shopping for bicycle wheels can be confusing, arcane and expensive. Make it simple by going with proven quality.
Safety First: If you road ride, gravel ride, commute or in any way use public roads and interact with cars, you want to stack the odds in your favor as much as possible. Last year I wrote here at Forbes about the biggest safety upgrade most cyclists do not know exists, Gamin's revolutionary rear facing radar/flashing light combo that takes the must-have safety feature of a flashing light and adds detection alerts for approaching cars. After two years of use, I truly believe it's remarkable, no one should ride without it, and it's still a great upgrade or gift for just under $200 (you can read more here).
An even newer safety upgrade that works for any cyclist on public roads, but especially commuters, is the Lumos helmet. Ever since it came on the market last year it has racked up a laundry list of industry and consumer awards, and rightfully so – the Lumos is the world's first smart bicycle helmet, with integrated front and rear lights, hard brake lights, and turn signals. A few helmet makers have started adding rear visibility lights, which is a great idea, but oddly, usually only in lower end models. The Lumos is a fully featured high-end helmet with all the fit, comfort and protection you want, and even has MIPS, an "optional" crash protection technology standard that is such a must you do not want to buy any helmet without it. Bottom line: while it has several functions no other helmet offers, there is no important feature available in any helmet that the Lumos is missing.
It has 48 individual LED lights, and at its most basic, the rear lights increase your visibility to drivers, while the front takes the place of a headlamp for riding at night. Then, if you mount the included cordless remote buttons on the handlebar, you can use left and right directional arrow shaped LED turn signals just like in a car. This and the feature that senses you are slowing down and activates a car-like brake light are really ideal for urban bike commuters. But even if you don't use the turn signals, the Lumos is a safety helmet for all riders of all bikes. It's weatherproof, has an app, is compatible with Strava and Apple Health, and two new Lumos models were just announced and are available for pre-order ($180 with free shipping)..
Shoe Upgrade: From both a comfort and performance perspective, cycling shoes are the most important part of your clothing kit, and if you road ride, you will be a hard pressed to do better than the Shimano RC7. An upgrade to a classic high-performance model, the current RC7 has an ultra-rigid but extremely lightweight carbon fiber composite sole, coupled with a supple synthetic leather upper that is comfortable, durable, won't be adversely affected by getting wet like leather, and has perforated venting. Better than laces, it got the newest Boa L6 dials and wire system, and the dual independent dials allow quick, precise micro tension adjustments. The RC7 is the more affordable (and sharper looking!) alternative to the top of the line race-oriented RC9, and selling for $225 at major retailers, it's about as much bang for the bike shoe buck as you can get. Shimano also makes a woman specific version, the RP7.
If you ride a gravel grinder or in mixed on and off-road conditions, and also want to be able to walk in your rugged high-performance cycling shoes, Shimano introduced a new line for this fast-growing category that is getting rave reviews, the XC5 for men and XC5W for women.
Better Saddle: The seat is the key to cycling comfort on any kind of bike, and can also affect your long-term health if you ride regularly. If you thought a seat was just a seat when it comes to cycling you then you need to check out Ergon, a German company that as its name suggests, is totally obsessed with ergonomics. They also make gloves, seat posts and various accessories, and do it all well, but saddles is where they stand out. Ergon has taken an unbelievably technical approach to rethinking the best ways to keep you comfortable and healthy on the bike without sacrificing efficiency or performance, and has long been a favorite of those in the know. This year they introduced three new men's models, each in two sizes, and all with the cutout for pelvic health but without losing the stiffness in the saddle. Last year they released a hyper-ergonomic women's design and in each case, dove deep into physiology for the best comfort, materials and technology for the lightest performance. They make gel comfort models and sleek racing saddles and too many things to cover here, but thanks to extreme attention to detail you can't go wrong – on the mountain bike saddles, they even added a special clip so you can use saddle bags (or lights) with dropper posts, something the industry has been missing. Whatever kind of bike you ride, and whatever your size, sex or style, Ergon probably has a better saddle for you, and at surprisingly reasonable prices
Better Gravel/Touring Gear: Gravel grinding, bike camping and long-distance bike touring are all more popular than ever, and require you need to carry more stuff than basic road rides. Topeak has long been a leader in cycling bags, tools and accessories, but recently introduced three cool new cargo units to haul more stuff ergonomically. The Topeak Frontloader is an extra-large handlebar bag ideal for light but bulky items like sleeping bags, camping gear and spare clothing. Constructed of lightweight, water resistant and durable materials, it's easily installed and removed with its straps and quick release buckles while the supplied external strap holds additional gear for convenient access. An 8-liter waterproof bag is included to keep contents completely dry and the built-in air release button draws air out from the bag to keep it compact ($85). The Topeak Midloader was ingeniously designed to employ unused space in your frame, and carries your heaviest items. Constructed of lightweight, highly water resistant and durable materials, it mounts and removes quickly with hook and loop fasteners. Two water resistant zippered openings provide easy access from either side, and it comes in three sizes: 3, 4.5 and 6 liters ($40-$50). Finally, there's the novel Topeak VersaCage, which is like a water bottle cage for larger bulkier gear, including dry bags, sleeping bags/pads, stuff sack, or any cylindrical shaped items ($25). These turn any bike into an SUV!
Cooler Saddle Bags: If there is one piece of soft goods every cyclist needs, it is a basic saddle bag to carry tube, tools, wallet, phone, keys, whatever. But bike bags have long been incredibly boring, and generally, like Henry Ford's original auto concept, you can get them in any color you want as long as it is black. But Krieg takes a radically different approach with a line of sleek bags in all sorts of crazy colors and graphics, and I have their skull pattern on one of my bikes while my wife sports pink tiger stripes on one of hers. There are patterns of tiny British flags, flames, woolen plaids, checkered flags, all sorts of wacky choices. They look great, but they are also really good bags, with a simple but secure strapping Velcro system that fits just about any saddle and post setup, swaps quickly form bike to bike, and has an easy two zipper pull full U-shaped rear opening. There's no better way to add some sex appeal and personality to your ride – and all for under thirty bucks.
---
I am the NY Times Bestselling author of Real Food, Fake Food and have been traveling the world as a journalist and passionate fan of all things fun for 20 years. I have had weekly columns in USA Today and Investors Business Daily, published thousands of articles in leading magazines from Playboy to Popular Science, and am currently the Contributing Travel Editor for Cigar Aficionado Magazine and restaurant columnist for USAToday.com. I love every kind of travel, active, cultural and leisurely, and my special areas of expertise are luxury hotels and resorts, golf, skiing, food, wine and spirits.